Interview with Marjolein
Interflora florist and manager of Hornby Florist
This week, as part of our Florist Talk blog post series, we are delighted to feature an interview with Marjolein. Marjolein has been working with Interflora for years in the Netherlands and New Zealand.
When did you get started in the floral industry and can you tell us the story behind Hornby Florist?
I am trained and educated in Floristry in the Netherlands. I went to an Agricultural School. The first 2 years was a bit of everything but then the last 2 years I specialised in Floristry. After I finished, I went to a Floristry school in Velp when I was 16 years old . Here I went to school 1 day a week and the rest you would work at a florist shop and gain your qualifications. I gained my florist Degree and Management qualifications to open my own shop.
The story behind Hornby Florist is , I was looking for a job , walked in had an interview and got the job. I have been at Hornby Florist now nearly 9 years. I manage a team of 4 girls.
How long have you been an Interflora Member for and why do you love it?
In the Netherlands the Flower shops I used to work at where all Fleurop or Interflora Florist. Hornby Florist has been an Interflora member for many many years. It all started with the owners who started Hornby Florist way back. The new owners kept it going. Its nice to be able to offer the Interflora service to our customers. So no matter how far away they are from their loved ones, we can send them flowers, gourmet baskets etc. To show we care about them. And especially New Zealand being an Island we have lots of customers who's relatives have moved overseas or moved out of town, including me.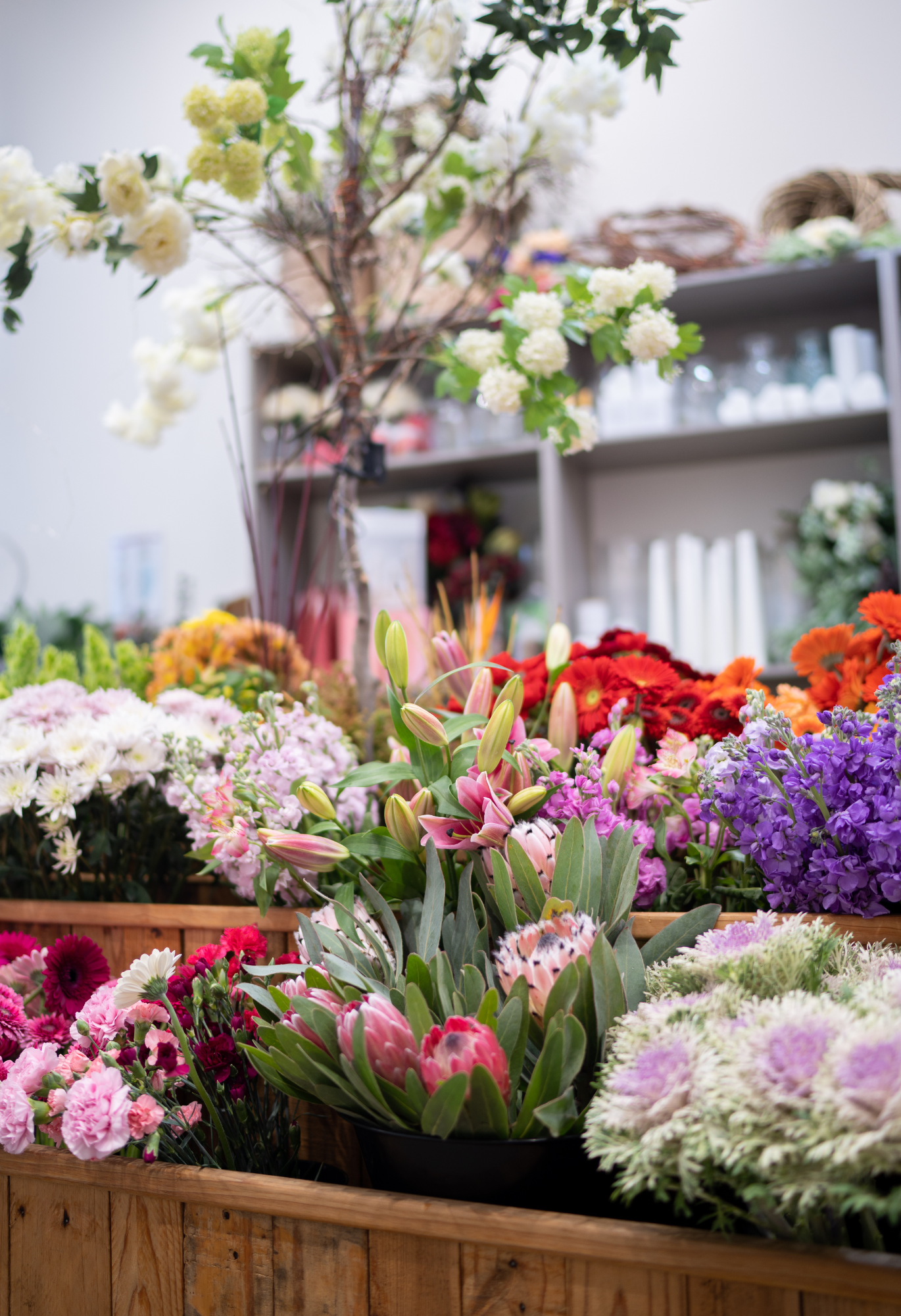 What makes Hornby Florist different?
We are grower operated. The owners of Hornby Florist have a Gerbera and Roses farm out in Lincoln, Christchurch.
The owners are growers so because of that we really promote NZ Grown Flowers. We like to get behind Feel Good with Flowers and promote our NZ Growers. And we promote our gerberas. We grow roses as well but, we have had a disease in the glasshouse so at the moment we don't have as many roses as we used to.
We are a florist shop so our main focus is flowers and we always have a nice big display of them. But we are also on trend with plants and terrariums. And we sell some giftware like vases, ceramics, living light candles, linden leaves hand creams etc.
What do you love about being in the floristry industry?
I have always been a creative person and like to be busy rather than sitting behind an office desk. I love the changing seasons and creating something beautiful for others to be enjoyed.
What would you tell your 21 year old self about working in the industry ?
I should have studied a few more years and gotten my Masters Degree in Floristry. I regret not having gone further.
What is your favourite flower season and why?
That's a hard one since I love flowers and each season has its own beautiful flowers. But I absolutely love Orchids so if I had to choose a season, I would choose the season when we have Orchids again!