Use flowers to send a message: The Language of Flowers
Each and every flower has a meaning. Ready to expand your knowledge and take on the world of floriography? We've created a crash course in the language of flowers right here. Want to send them beautiful flowers to say thank you for being awesome. Or flowers that signify happiness and joy because they've gone that extra mile or brighten their day with a beautiful hand-crafted pink bouquet full of love & optimism. Here is our guide to our favourite Spring flowers and what these blooms really mean.
For those feeling mellow: Send Yellow Flowers
While yellow flowers generally signify happiness and joy (Pantone even made a yellow their colour of the year in 2021 to help boost spirits during the coronavirus pandemic). Yellow blooms symbolise all sorts according to floriography (the study of the language of flowers), so if you want to use your bouquet to send a message here's our quick guide.
Yellow roses - Roses in a bright sunshine hue represent joy and friendship, combining the symbolism of love that roses are linked to with the bright colours of happiness and summer.
Sunflowers - the flower of joy. How can the big, cheerful heads of the sunflower mean anything but happiness?
Yellow Tulips - we're seeing a theme with yellow flowers here and with the colour lending itself to the idea of happiness and optimism, it's no surprise. Yellow tulips were once said to mean hopeless love and jealousy but over time have come to mean cheerfulness and sunshine. They're the ideal flower for a spring bouquet!
Daffodils - as one of the first signs of spring it's no surprise that daffodils represent rebirth, new beginnings and good fortune. Plus their vibrant yellow colours make us think of sunny days and bring a smile to our faces amidst the chill of early spring. Make sure you give them as a bunch because a single daffodil represents bad luck.
To send a bouquet full of joy shop our new Florist Choice Collection in Zesty Yellow.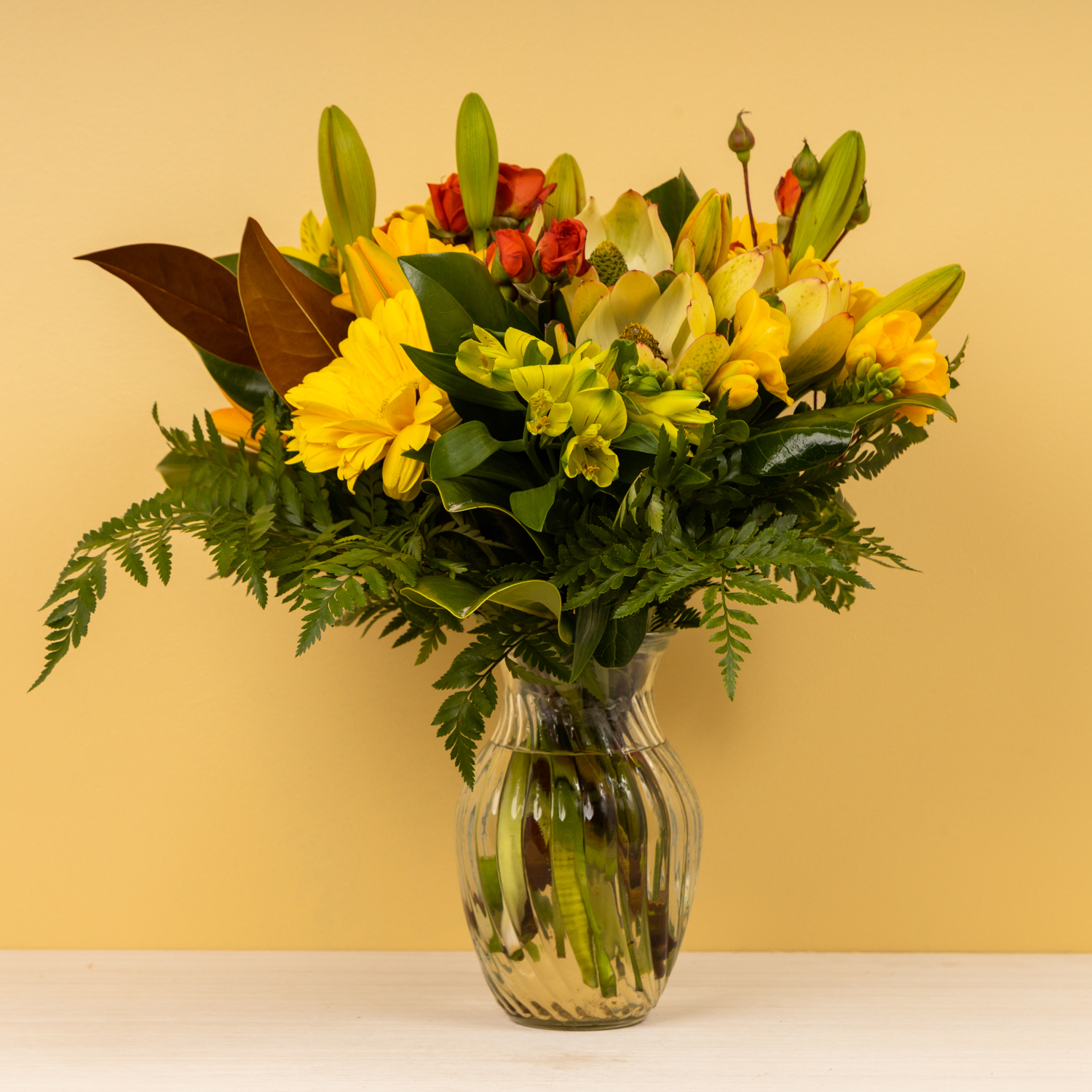 Flowers that mean love
We've rounded up some of the most popular red flowers and their meanings to help you choose the perfect bouquet for a loved one or to convey a certain meaning.
Red roses - We're not sure there's any flower whose meaning is more well-known than the red rose – and we have Valentine's Day to thank for it! Red roses are commonly given to lovers and partners as a symbol of romance and affection. Red roses are associated with the Greek goddess Aphrodite, the goddess of love and passion. T
Red tulip - Believe you've met your soulmate? That one person you intend to spend the rest of your life making happy? Then a bouquet of red tulips is the perfect romantic gesture. This favourite spring flower in a bold shade of red is said to symbolise true love.
Red poppy - Poppies symbolise remembrance and consolation. These vivid red flowers are likely associated with sympathy due to their use around November time and Remembrance Day.
Red Gerbera - You can't help but smile when you see gerbera daisies and so we totally understand why these sweet flowers are said to mean cheerfulness and loyal love.
Carnations - A staple in many floral arrangements, carnations also have an important job to play when you want to send that message of love. Each colour of carnation means something a little different, so choose wisely!
Light Red – admiration
Dark Red – deep love and affection
To send a bouquet full of love shop our new Florist Choice Collection in Sweet Reds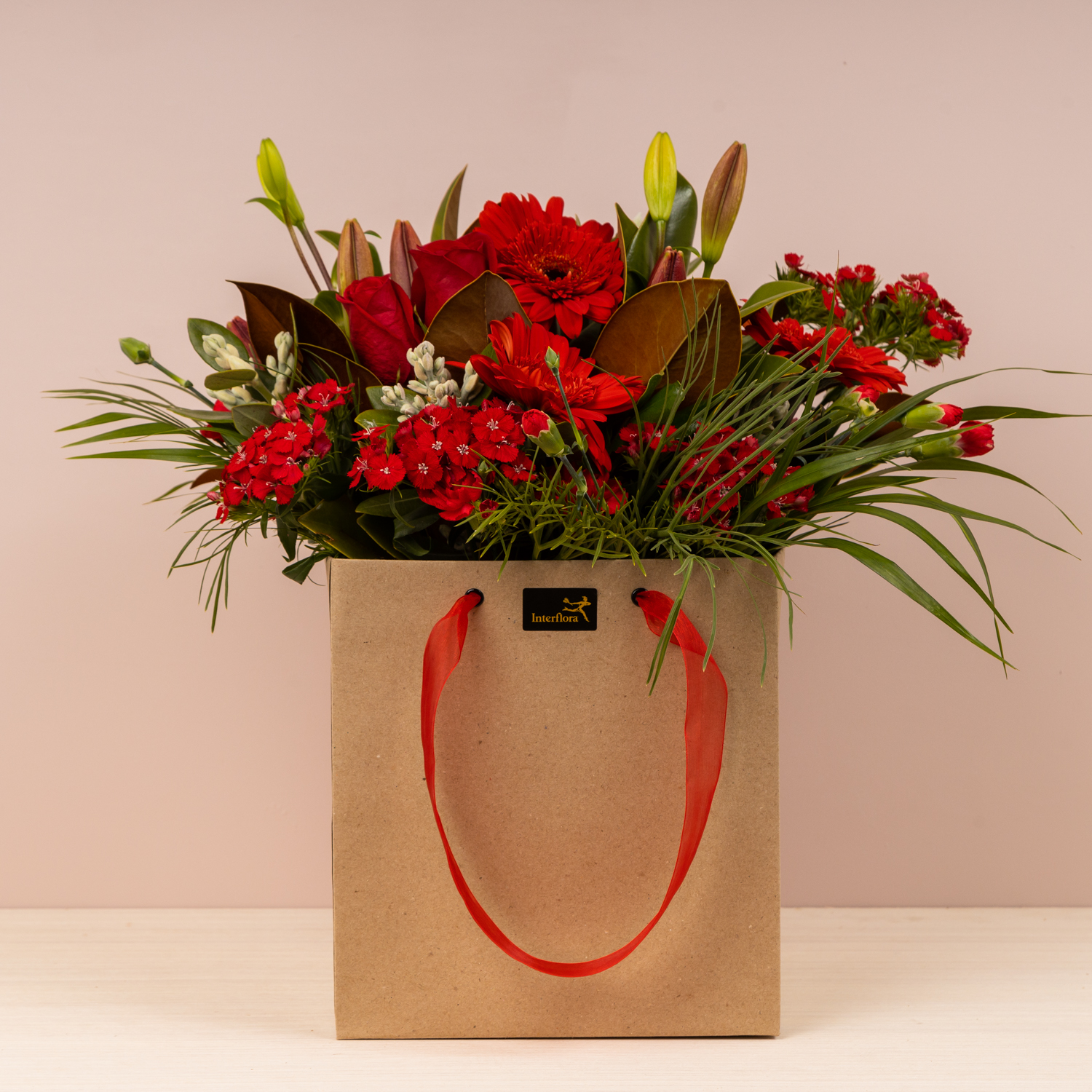 Flowers that mean gratitude & optimism
Nothing quite says thanks for your help or just thanks for being you, like a gorgeous bouquet – if you're looking for how to say thank you for that card you're writing though, we do have a helpful guide here. So, which flowers mean gratitude? Let's take a look!
Pink Roses - Pink roses are the perfect way to show gratitude, appreciation and admiration. These pretty blooms are the ideal choice for a bouquet for a friend who has helped you out or a loved one who has supported you.
Blush Hydrangeas - The always stunning hydrangea symbolises gratitude for being understood. They represent anything that is sincerely heartfelt and so perfectly represent that feeling of gratitude. Pink hydrangeas pink is said to mean sincere emotion and true feelings.
Pink Chrysanthemums - This bouquet favourite is said to mean optimism, joy and a long life. With a range of stunning colours to choose from, you'll never tire of chrysanthemums. This flower is the birth month flower for November, making it the ideal choice for a birthday bouquet that will brighten their day (we're poets and we didn't know it!)
Pink hyacinth - In the language of flowers, the pink blooms of the hyacinth are said to symbolise playfulness and positive things. The pretty clusters of pink flowers remind us of candy floss and carnivals and look stunning on a kitchen window or amongst a spring bouquet.
To send a bouquet full of optimism shop our new Florist Choice Collection in Perfect pinks.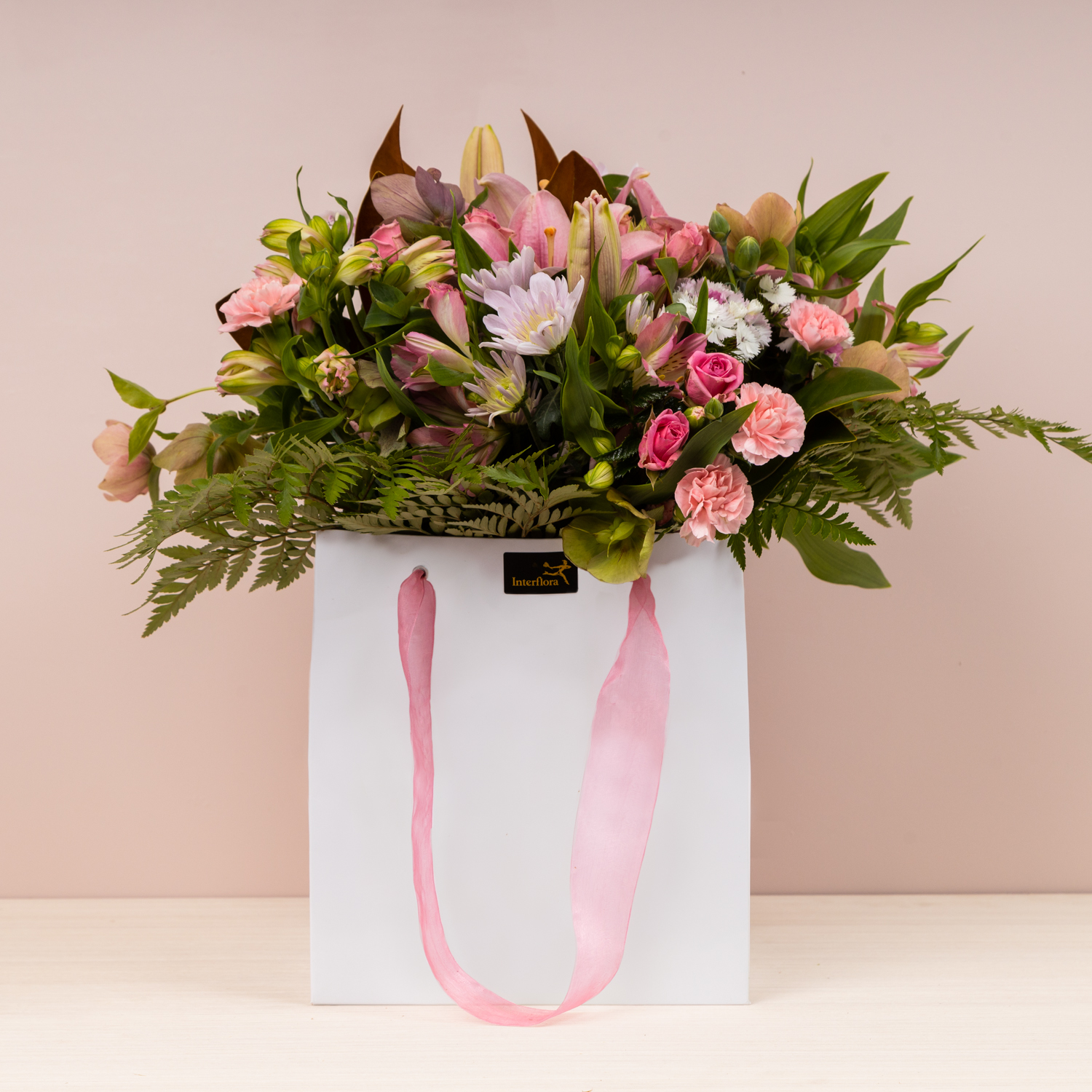 Source: Flower meanings