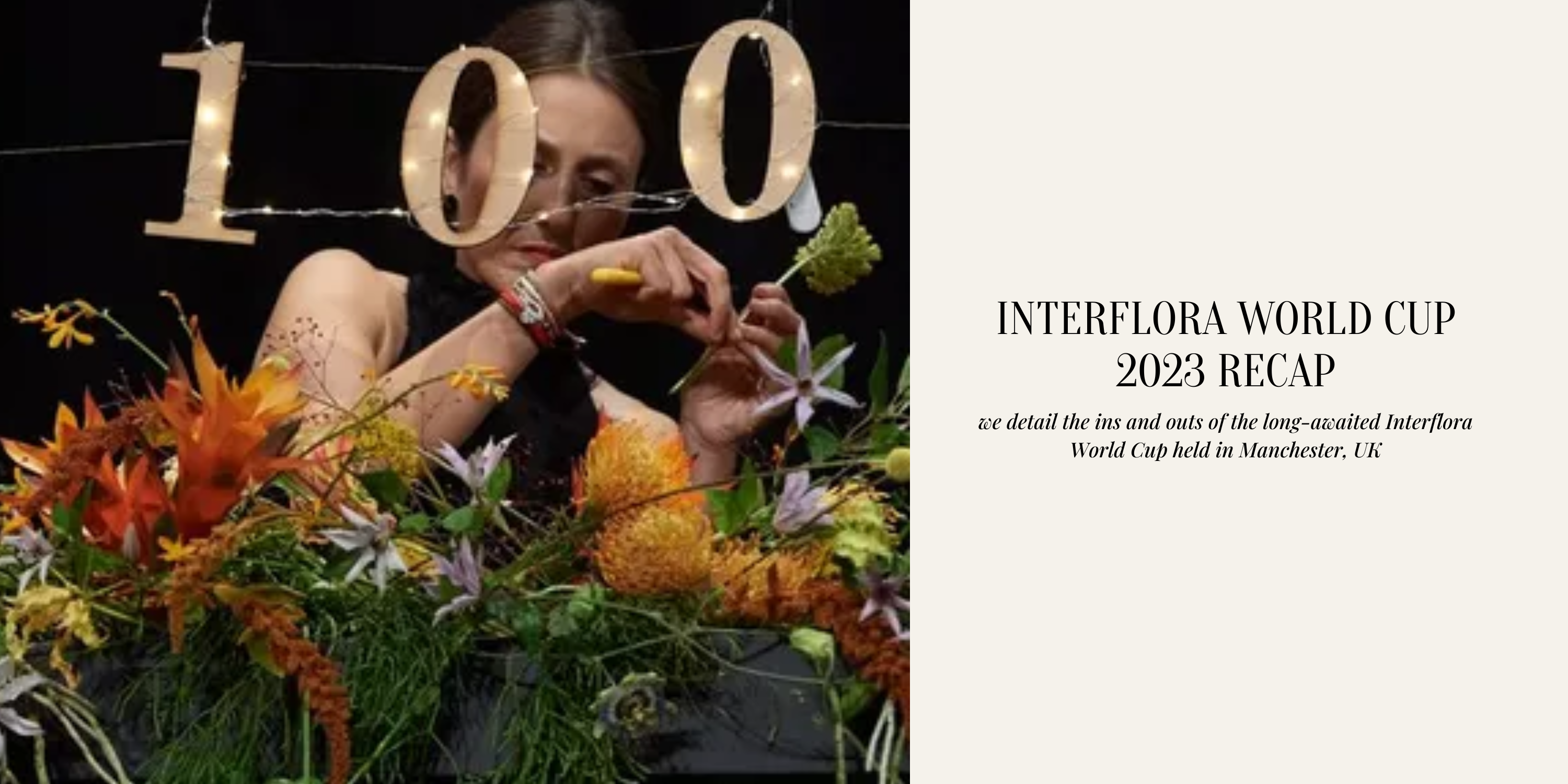 Interflora World Cup 2023 Recap
The long-awaited Interflora World Cup was held last week, and we're here to help recap the exciting event! Spanning 3 days, the event included florists from across the world to come and show off their skills. The contest was knockout style – each florist had to complete a series of imaginative challenges to identify the winner. Finalists hailed from all over the world, the top five came from Norway, the United Kingdom, Spain, the Republic of Korea, and Germany.
Here were the 6 competition stages:
Stage One: A Canopy of the Rainforest
The task required contestants to conjure a forest canopy in the heart of Manchester. They were granted two hours to craft a suspended design, with at least two-thirds composed of fresh flowers or plant materials. The judges meticulously evaluated each concept, assessing color, composition, and technique.
Stage Two: A Bee-Inspired Tribute
A surprise challenge sprang upon competitors, urging them to pay homage to the vital pollinator—the bee. In a mere 90 minutes, they needed to create a masterpiece using at least 75% natural materials within a honeycomb structure. The resulting designs buzzed with creativity.
Stage Three: Watery Wonders
Inspired by the quote, competitors had to design an intimate table setting for two. They had some preparation time but were given a critical two hours to bring their watery wonderland vision to life and captivate the judges.
Stage Four: A Heavenly Wedding
An abstract yet enchanting task asked competitors to envision a celestial wedding above the clouds. What flowers would adorn this ethereal occasion? This task was all about inventive imagination, promising spectacular creations.
Stage Five: Meadow Melody
Another unexpected challenge aimed to capture the essence of the tranquil meadow. In a mere 45 minutes, competitors had to craft an exquisite hand-tied bouquet that conveyed the serenity and beauty of these special places. Despite the crowd and nerves, the florists transported everyone to a state of tranquility with their remarkable talent.
Stage Six: The Grand Finale
The grand finale featured one last surprise task—to create a display celebrating Interflora's century of connecting people with nature. Crafted on stage using a '100' stand, the pressure was palpable during the glamorous Gala finale, but as they say, pressure can create diamonds!
Throughout the event the competitors' incredible creations were evaluated by a team of 14 international judges and adjudicators managed by the Internatinal Florist Organisaton, Florint. They were assessed on four key aspects of floristry design – idea, colour, composition and technique plus the judges also considered sustainability.
At the end of the competition, Nicolaus Peters from Germany took the crown, cementing himself as the Interflora World Cup 2023 champion.