Peony Perfection: Send Fresh Peonies
Peonies are the perfect excuse for a just-because bouquet. Send Fresh Peonies and 'wow' from the moment they show.
Peony Season is October and November so Peonies are synonymous with a short but glorious flowering season, the popular flower that is pleasing to the eye and a delicate scent to the nose, the peony is the perfect springtime treat.
It's a time of great excitement for flower lovers everywhere in New Zealand. These irresistible fluffy blooms, with their enchanting textures and impressive colours make them one of the most stylish blooms that are sure to stand out, whether on its own, or paired with other popular flowers like roses or lilies.
These incredible bouquets are always strong in demand. Read on to learn more about their amazing qualities that make them the dreamiest and dramatic bouquet going. Plus, we share our top tips for peony care.
When are Peonies in Season?
Corals - October- November.
Pale Pink, Hot Pink, Cream and White - Mid November - December.
Red - Late November - December
The Season is short and sweet, this has made peony season an event in itself in the flower world, and gives peonies a touch of extra allure.

How should I care for my Peonies to keep them looking their best?
Avoid placing them in direct sunlight. Before placing in a vase cut stems at an angle. This trick increases the surface area of the cut, helping the blooms absorb more water and nutrients. Remove excess foliage about three quarters of the way up the stem.
Day to Day Care
Peonies are thirsty flowers so make sure you top up the water daily. You should change the water completely every other day with cold water (you'll notice the water getting a bit brown even after 1 day), as well as retrimming the stems to help them drink. There's no need to deadhead peonies.
How long do Peonies live?
They have a naturally shorter vase life – around five or six days. Here are a few simple steps to help your peonies last longer. Peonies are affected by the heat, at night, place them in the fridge, or outside (if it's cooler) to keep them from opening further. If you don't have plant food (that comes with most flowers), you can add a bit of sugar to your water.
How fragrant are they?
A peonies fragrance is perfect for freshening up the home. Alongside all their other amazing qualities, peonies also have a lovely fragrance. Pink and white double peonies have the most pronounced scent.
Fun facts:
Did you know a golf-ball sized bud will open to three times its size – now that's impressive.
Peonies symbolise romance, prosperity, good fortune, a happy marriage, riches, honour, and compassion. The petals of the head are said to resemble soft silk. It is easy to see why this fragile bloom has a fragile, unassuming beauty that lets it steal the show.
This well-respected bloom derived from the Latin name "Paeonia", it thrives during the spring season in stunning colours of coral, pink, cream, burgundy, white, red and peach.
There are hundreds of peony varieties. But our favourites are the warm 'Coral Charm' Peonies, one of the first to bloom, these magical colour-changing petals, start off as deep coral. Then when the flowers open, the petals gradually change to pink, then peach, then yellow and finally to ivory. We also love the pale pink flowers of Pillow Talk, refined and powerful at the same time; impressively large, sweet and satiny. We think it's one of the most beautiful.
All our Bouquets are one-of-a-kind. Meet Allan, Allan and his team of talented flower experts are one of the many of Interflora's local artisan florists in New Zealand. They're the ones that select every stem for freshness, expertly tie them and wrap them up so beautifully. Our bouquets are hand-crafted using the freshest (and loveliest) stems available from our grower network. Add a peony to your bouquet when ordering, just mention in the special instructions, for that special in-season touch or click below to order our Perfect Peony Bouquet.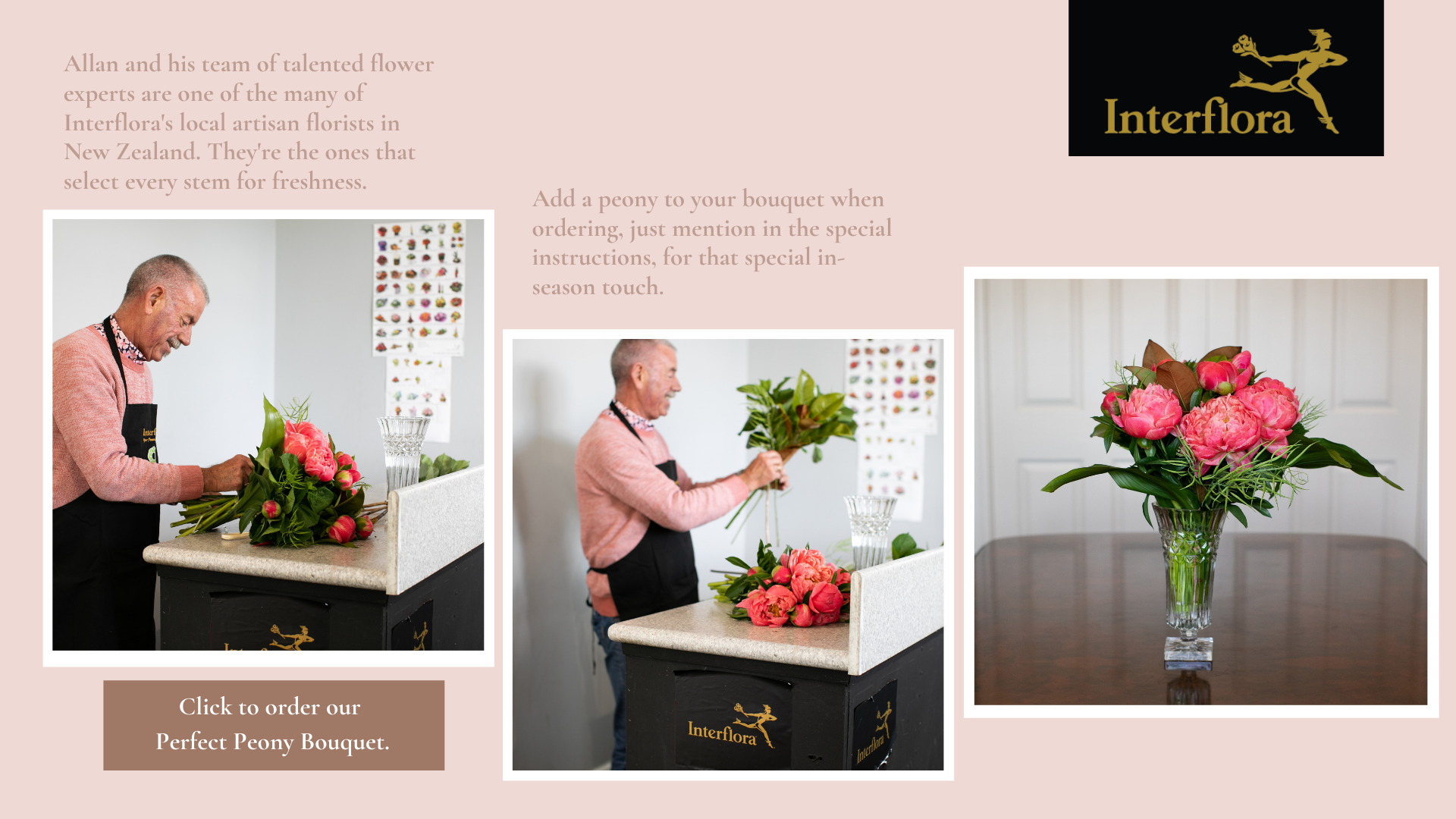 More Articles