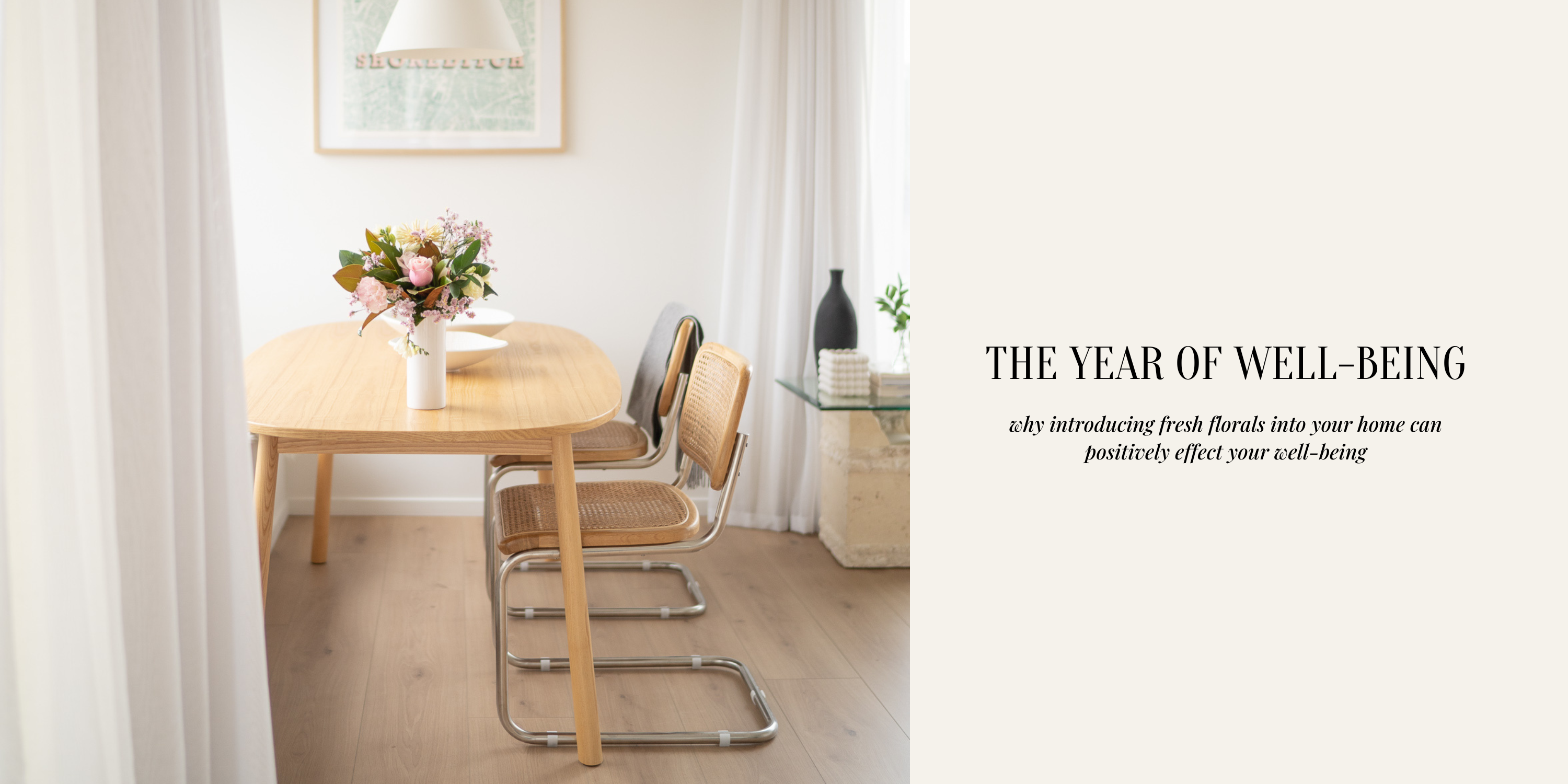 Year of Well-Being
This year, our resolution is filling the home with fresh flowers. There's nothing better than having a fresh bunch sitting on your kitchen countertop, or on your bedside table. Surrounding yourself with flowers is an easy step into making your space reflect positive energy. Below, we've listed our top 5 reasons as to why having flowers in your home benefits your well-being.
Connect with nature
Surrounding yourself with nature is vital when ensuring your mental health is looked after. It's common for a lot of us to take a break by having a walk around our neighbourhood or a local park. Take a break from the screens to be amongst the sunshine and greenery. Connecting your mind and body within nature is an easy way to make sure you're looking after yourself. Using flowers and plants in your home to be surrounded nature is a great alternative for those days where you can't seem to get out of the house. Try placing your flowers in central living spaces within your home, to constantly feel the positive effects of being close to nature.
Elevate your mood
Flowers are an easy way to quickly put a smile on your face. We typically view flowers as a gifting item, but what if we reset that mindset? Bringing flowers into our own homes and lives are an easy way to practice self-care and reframing into a positive mind-set. Brighten up your space and mood by having flowers in your bedroom and create a positive environment by waking up next to flowers every day.
Take out the hassle of filling your home with fresh flowers by getting amongst our newly installed subscription service. You can choose between three different frequency plans so that you can have flowers delivered to your doorstep on a regular basis.
Treat your nostrils
Introducing flowers into your home creates a space where as soon as people walk through the door they are filled with beautiful smells. Sometimes it can be hard for us to keep our homes smelling good when we constantly have people in and out. Instead of constantly burning candles, try using the natural scent of flowers to enhance your homes' smell. In addition to your home smelling divine, you'll be treating your nostrils each day. Try putting your florals near your front door or in an entryway so that as soon as you come home you and your guests can smell the flowers.
Improve creativity
A good guide to live by is that your space and environment reflects your mental space. A lot of us are working from home now, and it's important to create productive environments in which we can work in. Placing yourself in a tidy environment can create better mental clarity. In addition to having a tidy space, filling it with beautiful flowers can be a great way to get out of any creative blocks you may be facing. Try placing a bunch of flowers on, or around your workspace to boost your creativity this year.
Clean air
Poor air quality within our homes can be a massive problem. In addition to any purifying appliances, try bringing a peace lily into your home. Peace lilies are known for their air purifying qualities. Their leaves absorb any pollutants from the air, which get sent down to their roots and then broken down within the plants' soil. There's a plethora of other amazing qualities for the peace lilies, but there's something special about having something be both beautiful and good for your physical health.
Treat your well-being this year by introducing fresh and beautiful flowers into your home. Invite clean air and great smells in to ensure that your space holds the positive energy you want to see this new year.